Designers Help Silver Spring Home Sell For More
The white brick house with a koi pond in the back yard sat just a few doors away from Silver Spring's Long Branch-Arliss neighborhood park. Clearly, it had potential.
But it also had challenges.
A ceiling hole inside the front door had not been patched. The soiled carpet in a downstairs bedroom emitted an unappealing odor. Outside, overgrown bushes blocked windows and mildew had crept up walls.
These and other issues gave the house a sad feeling as if the home had been left behind.
But no worries! DKG was called in to give this little jewel the affection it deserved. And, not surprisingly, it sold for a terrific return within four days!
As a designer at the Donna Kerr Group, I absolutely love the chance to make a home shine. At the Donna Kerr Group, we do it every day, whether the job requires a major renovation or, like this home east of downtown Silver Spring, simple spruce up.
Keep in mind that when you put your house on the market with DKG, our design and staging are included. Our design choices, furniture styles, and accents are specifically chosen to help today's potential buyers imagine a new beginning for themselves. Check out the accompanying "before-and-after" video above for a sampling of what I'm referring to!
Before we could stage this home, we needed to tackle some of the above-mentioned challenges that were keeping this home from selling for a big return. And we got the job done with only a modest investment.
First, the inside:
The offending carpet was quickly yanked out. Some odors are just too strong to remove from the carpet, and allowing a bad smell to persist is no way to help a family envision a fresh start.
Dark spaces were brightened up with three strategies: installing overhead lighting, removing heavy window treatments, and removing "highly personalized" colors. Pink and green walls might have seemed cool at the time, but they're an unwanted distraction to buyers.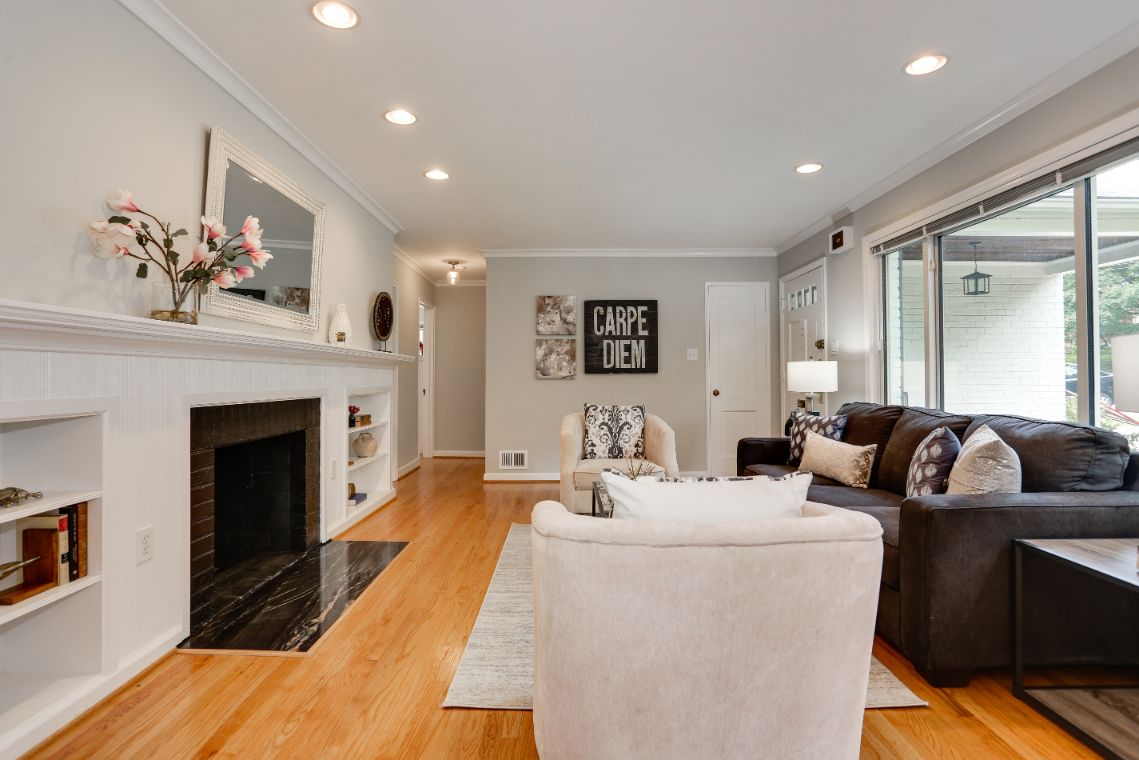 New, lighter colors were chosen with flexibility in mind. The color choices were subtle enough to allow prospective buyers to imagine filling rooms with their own furniture. And all hues belonged to the same color palette to ensure room-to-room flow.
New cabinet hardware and backsplashes were added to the kitchen. Hardware upgrades were also essential in the downstairs bathroom, where we painted the oak vanity, replaced the mirror, and switched out the dated Hollywood-style vanity lights.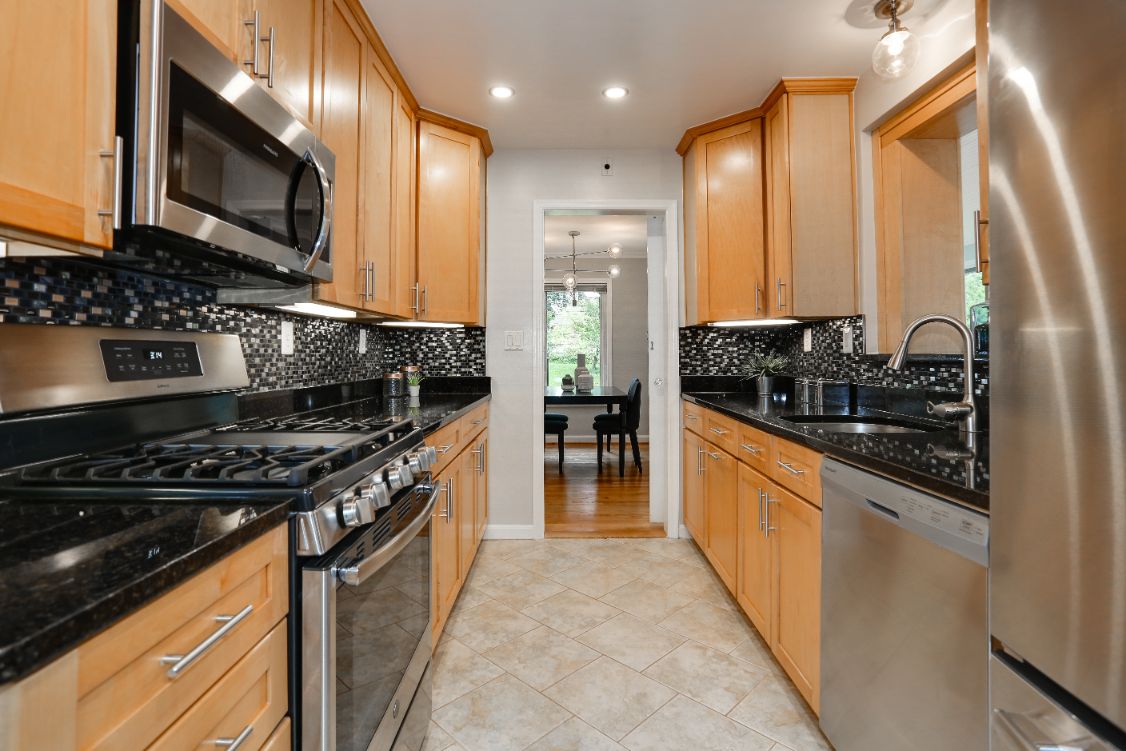 And on the outside:
Bushes were trimmed to make sure they no longer drowned out the house. Well-maintained shrubbery allows more light to shine through windows and, on mild days, won't block breezes through open windows.
Weathered shutters were replaced. So were front door light fixtures, which felt almost Victorian— not a good match for a house with a new, modern vibe.
Flowers were planted and mulch was generously applied, including on an abandoned vegetable garden that was cleared of rocks and other debris. When we finished, it looked primed for planting!
Pressure washers cleaned the driveway, the deck, and the walls that had developed a sheen of mildew.
And maybe my favorite upgrade: the backyard pond was reborn by clearing dirt, leaves, and ivy from the surrounding patio, plus removing the huge algae growth that had been allowed to flourish. I think we made the fish happy
Bottom Line
When our work was finished, I had no doubt we had a winner. And I was right! At the Donna Kerr Group, we've been helping sellers get the most out of their investment for years. And we can certainly help you, too. Please call for a free consult! (301) 802-1176.