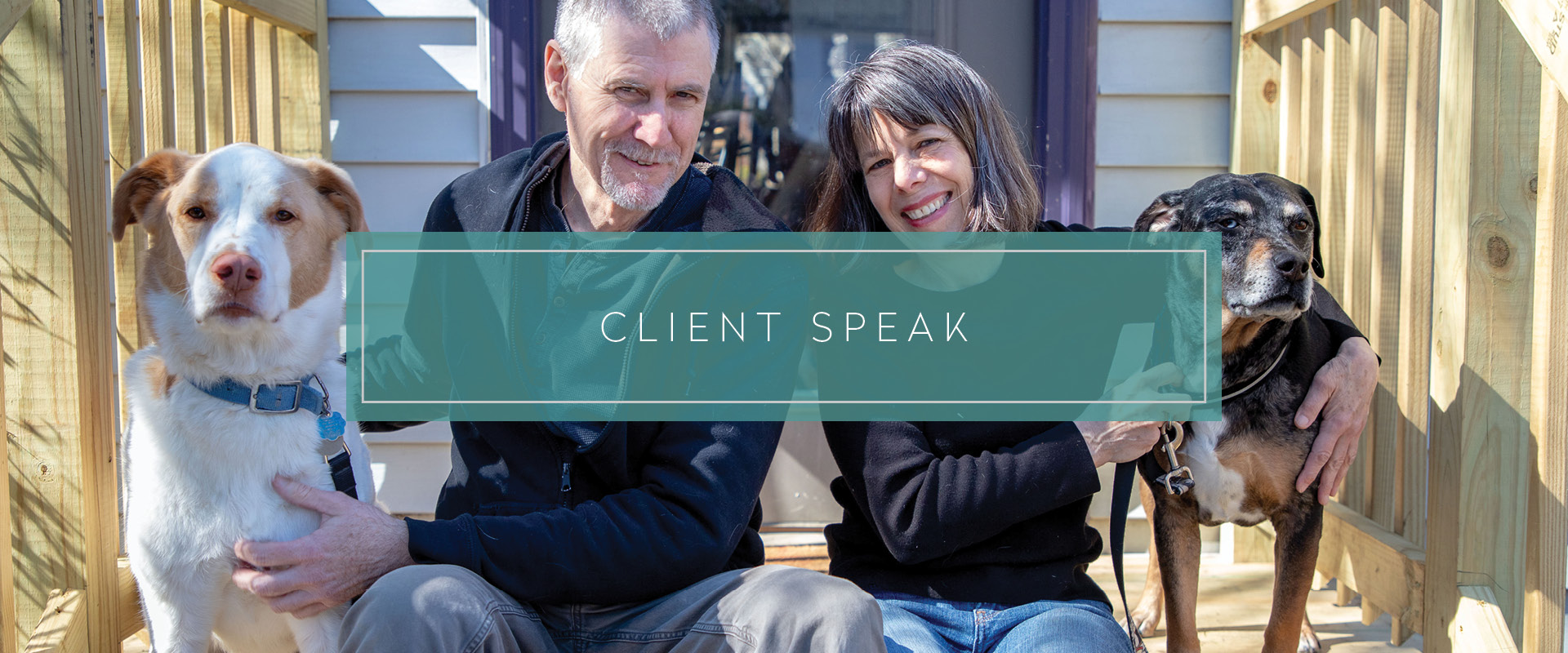 CLIENT SPEAK
What Our Buyers Are Saying
We met Maura at an open house and instantly liked her. After some research into the well regarded Donna Kerr Group, we knew she was the right person to help us find our first home together! Maura knows Takoma Park and Silver Spring really well, and is very familiar with the competitive, fast-moving market. She was very communicative, and always available to take us to a showing on short notice. We knew our offer would be contingent on selling our DC condo, and Maura walked us through the whole process and set realistic expectations for how that would affect our chances. While we were looking, Maura had the perfect balance between letting us come to our own conclusions and offering her advice when it seemed like we needed it. We ended up getting lucky and having our first offer on a house accepted! This was where Maura and everyone at DKG really shined. Maura handled all the back and forth with the sellers agent & made sure we were clear on our to-do list for signatures etc. The stressful part was that we had to get our condo on the market within three days, and it was the week of Independence Day. Maura and DKG got their cleaners, window cleaners, stagers, and photographer all there with less than 24 hours notice on July 3rd. The best part was it was all included in the commission, which was worth every penny. Our place looked phenomenal and was under contract (on a holiday weekend!) by Monday evening. We really can't recommend DKG generally, and Maura specifically, enough. She was professional and calm when we were frankly panicking, gave excellent advice about an inspection issue, and overall made a stressful and emotional process as easy as possible. We hope to never move again, but if we ever do Maura will be our first and only call!
Buyer
Jim was friendly and helpful with finding a house but most of all, he was on top of the details. Like checking with the county planning office for us. With so much development going on, we were able to avoid surprises that could have been devastating.
Buyer
[Jim] made buying my first home so easy. Worked around my schedule and always available to answer questions I had. Very professional and knowledgeable. Walked me through every process of buying my home and negotiated in my interest.
Buyer
Jim is amazing. He helped me to find my first home. Being a first time home buyer I had many questions and concerns. Jim was always available to answer questions and made it his mission to help me find the perfect home. Jim is knowledgeable, flexible and professional. He took the extra step to keep in touch with my loan specialist to ensure the home met the requirements set forth by my lender. I have referred all my friends and family to Jim. He will truly look out for you and treat you like family.
Buyer
I'm a very picky, selective customer and Robin does an excellent job being patient with me and showing me beautiful homes. She learned what my tastes are and only shows me homes that she knows I'd love.
Buyer
Robin is amazing. As a newly divorced man, buying a house is a very emotional decision, especially when children are involved. Robin was instrumental in helping me identify the right house in the right neighborhood. It's comforting to know your realtor has been there and understands and provides the expertise, guidance and support so I could make the right decision. I wish I could rate her 6 stars!
Buyer
Robin is an amazing agent. Her kindness, smarts, persistence and patience make her wonderful to work with. She explains everything for first-time home buyers thoroughly. While she specializes in divorce, as a couple, we found that she was phenomenal. I highly recommend her to anyone looking for a home in Bethesda, Potomac or Rockville.
Buyer