Update Your Kitchen With These Simple And Effective Changes
Posted by Donna Kerr on Saturday, July 31, 2021 at 6:03 AM
By Donna Kerr / July 31, 2021
Comment
From Remodeling to Quick Refreshes, Our Design Team Knows How to Use Any Budget to Make Homes Shine and
Net the Greatest Return
.
Staying on the pulse of what buyers love is our forte and our kitchen remodels are no exception. Each client and their home is unique, so not all homes will need a quick refresh. For those that do, the results speak for themself. Not moving any time soon? These are great tips to reinvent your own kitchen. Let's dive in!
1. Swap The Standard Cabinet Knobs For Something Fun
What ties a design together better than matching metals? Changing cabinet knobs is a simple way to complete your design. Whether it's a statement knob or a simple choice to make another design feature pop, this cost-effective update can be done in an afternoon and can help transform the feeling of the room. Another perk of this trend? You can do this even if you're renting and have your knobs match the kitchen items you own!
2. It's All About The Lighting
Nothing completes a design quite like light fixtures. While our Design team focuses on what buyers will love when transforming our listings, if you are staying put, find something that fits your unique style. Either way, it's one of the easiest and most cost-effective ways to update a home to fit your personal style.
3. Put Your Tableware On Display With Open Storage
Our Design team doesn't predict this home decor trend going anywhere anytime soon. Open shelving adds additional or alternative storage in your kitchen while allowing homeowners to "decorate" using their everyday items like dishes and barware.
4. Get Creative With Flooring
What are buyers looking for? A space that feels "done" and move-in ready. Looking for a way to completely change the look of your kitchen and make it feel complete for less? Swap a standard kitchen tile for something more fun! Whether it's a mid-century inspired pattern or a modern take on moroccan tiles, your home's personality can radiate with your kitchen flooring of choice.
5. Why Settle For Just One Color?
Gone are the days of the all-white kitchen. Instead, homeowners are opting for dual-color cabinetry. Whether you choose to go bold with a vibrant color or more understated with a darker tone for your lower cabinets, this is a modern home decor trend we just can't get enough of. Pro tip: Stick to a lighter cabinet color on the upper cabinets and a darker choice on the bottom. This gives a more polished look and allows the cabinets to feel that they are extending toward the ceiling, creating the feeling of extra space.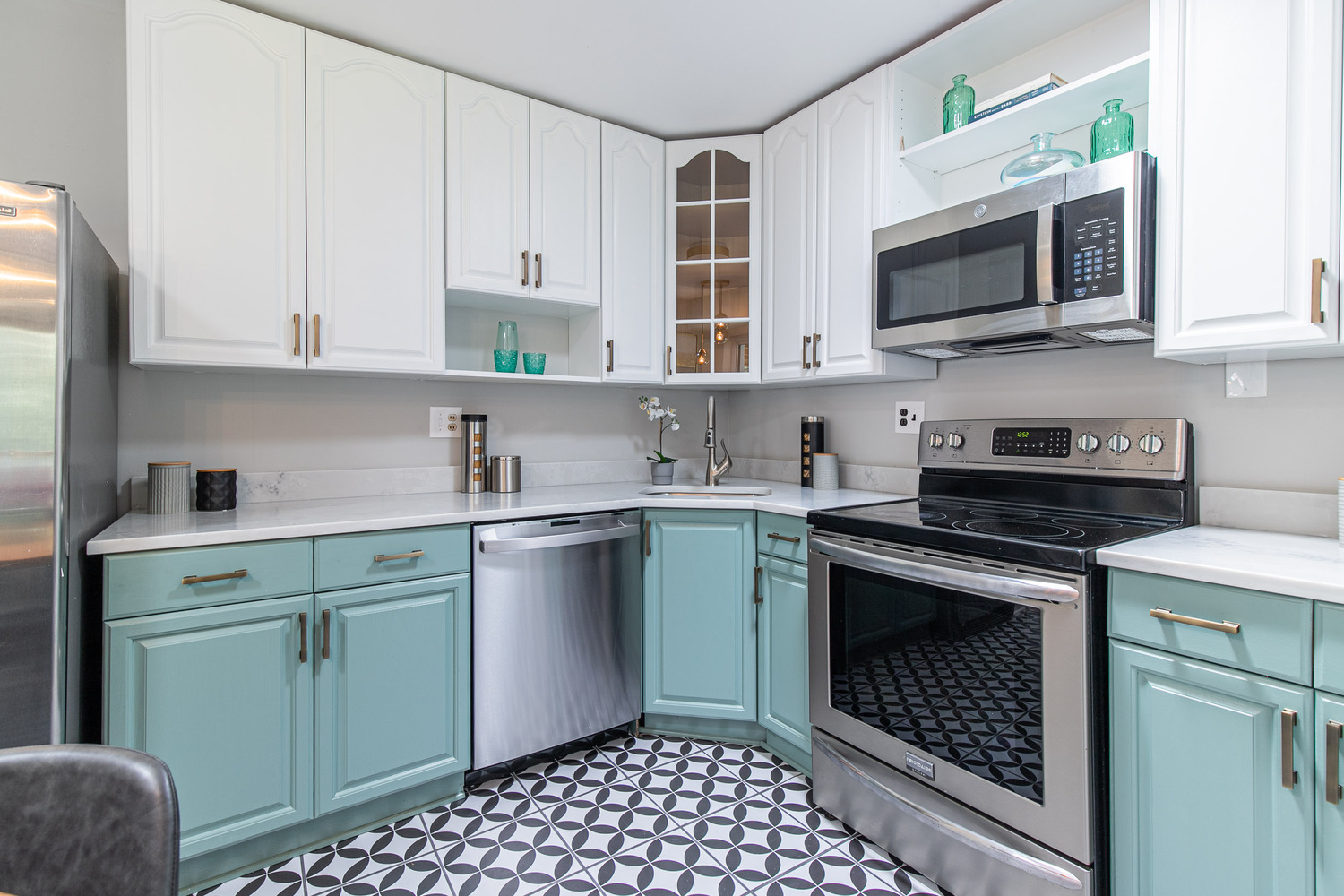 We hope these tips inspire you to elevate your kitchen to the next level. While we love helping our clients make their houses feel more like home, our Design team has truly mastered the art of staying ahead of the trends that buyers are looking for and what will result in the greatest return on investment for our sellers.
We've built a reputation for effectively transforming homes into top-selling assets for our clients while working quickly and seamlessly within their budget. Curious what our team can do for you and your home? We're ready to help. Click here so we can get started today.
For more design inspiration, be sure to take a look at some of our quick and easy design tips from our top designer to transform your home this weekend.