Five Day Trips In The DC Area
Posted by Lifestyle Team on Friday, August 25, 2023 at 9:00 AM
By Lifestyle Team / August 25, 2023
Comment
From State Capitals to Historic Towns, Maryland, Virginia, and Washington DC Feature Some of the Best Places to Visit for the Day.
Labor Day is just around the corner and the weather in the DC metropolitan area is cooling off just in time. If you're looking for an exciting way to spend a day during your extra-long weekend, or any day you'd like a change of scenery, we've got you covered with our top locations in the DC Area for a perfect day trip. As always, check for the latest updates on openings and closings before heading out!
Annapolis, MD
As the capital of the state, Annapolis embodies some of the best elements of Maryland. This 17th-century sailing hotspot is located in the heart of Chesapeake Bay, has a fascinating history, and some of the best food in the area.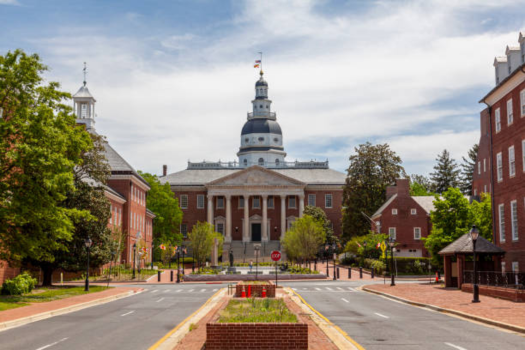 Be sure to see the Maryland State Building!
Start your day with a crepe from Sofi's Crepes to give you the energy you'll need for your day. Take a stroll through all the shops on Main St. and find your new favorite Maryland small business. As the middle of the day approaches, enjoy a true Maryland lunch: An orange crush and a crab cake on a historic street while overlooking the sailboats and navy ships at The Federal House. Looking for something to do with some history? Enjoy the beauty of a Maryland day at the William Paca Garden, a "historic two-acre oasis in the bustling center of Annapolis' Historic District." Other exciting historic locations include the Maryland State House, Hogshead, and the James Brice House. It's hard to imagine visiting Annapolis and not finding yourself dreaming of boating. Rent an electric boat for 1-3 hours and enjoy the Chesapeake Bay the Annapolis way with no boating experience required! Before heading back home, enjoy an evening dinner at Vin 909, a local restaurant with amazing pizza, a curated wine menu, and beautiful outdoor seating.

For more ways to spend your day in Annapolis, consider the Chesapeake Pirate Adventure, the US Naval Academy, or Great Frogs Winery.
Old Town Alexandria, VA
Located just south of Washington DC (it was actually part of DC and home to a rich American Revolution-era history), Old Town Alexandria is the perfect day trip for DMV locals.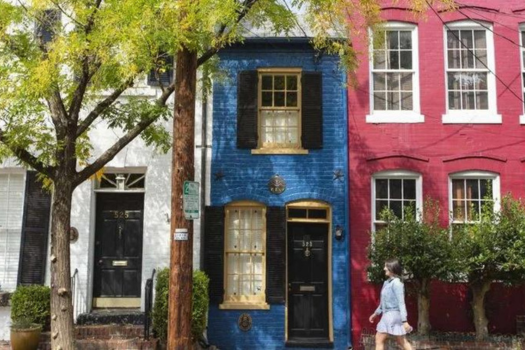 One of the best places in the DC metro area to enjoy is undeniably Old Town Alexandria, VA.
Start your day by visiting the oldest Farmer's Market in America and have breakfast just as George Washington did. Make your way toward the cobblestone road at Captain's Row, the oldest block in Old Town. These beautiful homes are just a block away from King Street near the water, where you'll find a variety of shops and outdoor dining options for lunch including The Rub Chicken and Beer, an American cuisine restaurant favored by multiple presidents. Be sure to keep your eye out for the most narrow home in America! At less than seven feet wide, The Queen Street Spite House is a fun photo op you don't want to miss. Rent a bike for an hour or two and ride along Mount Vernon Trail. This scenic path is mostly flat, making it the perfect adventure for the whole family. For dinner, stop by Gadsby's Tavern and have a fine dining experience where our founding fathers ate.
For more ways to spend your day in Old Town Alexandria, consider touring the murals, taking a ghost pub tour, or a private cruise of DC.
Historic Fells Point, MD
This waterfront neighborhood is loaded with history, local businesses, and bustling cobblestone roads, and is the reason Baltimore was coined "Charm City."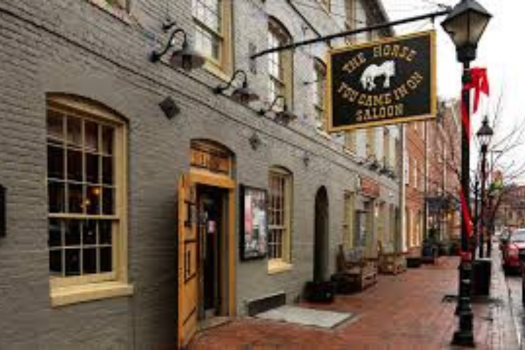 Enjoy the best of Baltimore at Fells Point.
Begin your day at Blue Moon Cafe, a local hidden favorite famous for their Captain Crunch french toast. Make your way over to Thames St, where a variety of small businesses, including Poppy and Stella and Sound Garden. Be sure to peek at The Horse You Came In On Saloon, the last place Edgar Allan Poe was seen alive. Steps away, an idyllic harbor walk greets you. Don't miss Seven Foot Knoll Lighthouse, a unique structure with a history as intriguing as the town itself. Continue on your walk to the historic ships and the National Aquarium in the Inner Harbor or loopback at this point on your harbor tour for more fun in Fells Point. For lunch, Barcocina has some of the best Mexican cuisines with plenty of outdoor dining and a view of the iconic Domino Sugar sign along the harbor. Stop by the Sagamore Pendry Hotel, a renovated warehouse dock consistently voted one of the best luxury hotels in the world. If you choose not to enter, there are a variety of local shops as well as the Robert Long House which has a beautiful historic community garden to enjoy at no charge. Enjoy a true Maryland crab dinner complete with live music, cornhole, ping pong, and more on the expansive outdoor patio at The Choptank. Looking for a calmer evening? Treat yourself to a nice glass of wine at V-No Wine Bar, a local favorite on a cobblestone street overlooking Chesapeake Bay. Before you leave, don't forget Insomnia Cookies where you can grab some warm treats for your drive home.
For more ways to spend your day in Fells Point, consider the nearby Patterson Park, a Wicked History Ghost Tour, and the Frederick Douglas Museum.
Richmond, VA
Another state capital, Richmond has built a reputation for being family-friendly, beautiful, and the perfect place to soak in the best of Virginia.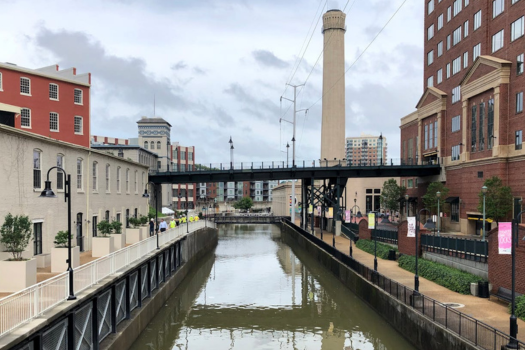 Just two hours away from Washington, DC, Richmond is a perfect place to enjoy Labor Day!
Start your day with Richmond's best breakfast at 521 Biscuits & Waffles. Once you've got the fuel you need for the day, make your way to one of the most beautiful gardens in the nation, Lewis Ginter Botanical Garden -- an absolute must-see! As lunch approaches, head over to Hardywood Park Craft Brewery to enjoy one of the best brews in Virginia. Be sure to check their website for special concerts and events at their outdoor taproom. Looking for a little history on your day trip? The Armour House and Gardens at Meadowview Park provide Victorian-era history in addition to hiking trails, multiple gardens, and children's play areas. You may even see a ghost or two! No day in Richmond is complete without a stroll along the Riverfront Canal Walk. Before you say goodbye to Richmond, enjoy a fine dining experience at Max's on Broad, a restaurant with French cuisine, a wide variety of delicious cocktails, and a broad curbside pickup menu, if it's time to hit the road.
For more ways to spend your day in Richmond, consider the Metro Richmond Zoo, Maymont Children's Barn and Nature Center, or Belle Isle State Park.
Frederick, MD
It's almost impossible to not fall in love with this hip and historic town. Located less than an hour away from DC, Frederick offers the fun of an artsy hot spot with the ease of a train station hub for even more adventures.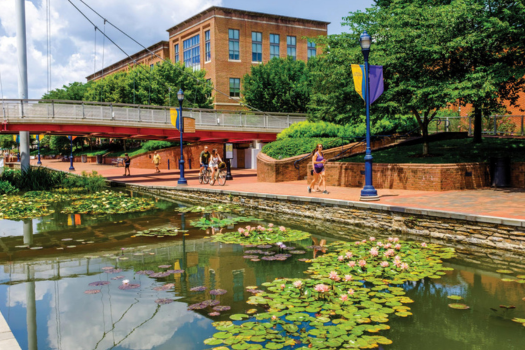 Carroll Creek Park is sure to be a highlight of your day trip to Frederick.
Although traditionally in the late afternoon, start your journey in charming Frederick for high tea at Cafe Anglais, a true English tea room complete with mismatched tea sets, homemade scones, and some British biscuits for an afternoon snack you'll be sure to want later! Soak in the sunshine and a variety of ever-changing sculptural artwork on the mile-long waterside walk at Carroll Creek Park. Make your way to the historic downtown area and see if you can spot the several "Angels in Architecture" fresco paintings. While you're downtown, be sure to stop by Hootch and Banter for lunch. While there's plenty to soak in when it comes to historic sightseeing in Frederick, our team recommends the Fredericktown Barracks for some history outdoors. Before the sun sets, head over to Black Ankle Winery and discover your favorite at their outdoor tasting room. If wine isn't your drink of choice, consider Brewer's Alley, a brewhouse with a beautiful rooftop deck, delicious pizza, and some of the best beer in Maryland. Does a beautiful drive rather than a day trip sound more enticing? Frederick has a variety of scenic byways that truly hit the mark.
For more ways to spend your day in Frederick, consider Cunningham Falls State Park, Catoctin Animal Preserve, or Tree Trekkers.
From the beautiful scenery to the history and beyond, Maryland, Virginia, and Washington DC hold some perfect day trip opportunities. We hope this list inspires you to soak in the best of our region and find some favorite places to visit of your own.
Ready for More? Check out these additional day trip opportunities to enjoy the outdoors this Labor Day or any day:
Let us know on Facebook or Instagram or shoot us an email at [email protected] about which of these adventures you tried and what you thought. If you'd like, include a photo and we'll give you a shout-out on social.
If you are not already on our newsletter mailing list, let us know and we will make sure you don't miss out on future adventures. Email [email protected] to subscribe.