Big Changes Ahead with the Purple Line
Posted by Michelle Cianfrani on Monday, June 24, 2019 at 12:59 PM
By Michelle Cianfrani / June 24, 2019
Comment
Are you wondering how things will change when the Purple Line opens in a couple of years? Me, too! I'm optimistic, though. I'm sure it will help with traffic congestion.
And it will be nice to scoot from the east side of the county to the west side without having to loop all the way into D.C. on the Red Line.
In my latest blog post, I talked about current commuting options in lower Montgomery – the neighborhoods that sit closest to the Red Line (Woodside Park, Forest Glen, Takoma, Wheaton, etc.), plus the network of biking and walking trails that help connect people to the jobs.
But for people home shopping in Montgomery, the future Purple Line should definitely be kept in mind. For lots of neighborhoods, it's gonna be a game changer, especially for people whose work, school or play take them between Montgomery and Prince Georges counties.
Construction has already begun, and updates are available on a special Maryland Department of Transportation website. Here's the big picture: When the ribbon is cut and the cars start rolling sometime in 2022, the Purple Line will be a 16-mile, east-to-west light rail line between New Carrollton and Bethesda.
Designers envision several benefits. Foremost, the line's east-to-west orientation will allow connections with the north-to-south tentacles of Metro's Red, Green and Orange lines. It's also designed to connect with major economic centers as a way to help commuters. The line will have 21 stops, including (east to west):
New Carrollton (connecting to Orange Line and MARC Penn Line)
College Park / U. of Md. (connecting with the Green Line and MARC Camden Line)
Takoma/Langley Transit Center
Piney Branch Road
Silver Spring Library
Silver Spring Transit Center (connecting with the Red Line and MARC Brunswick line)
Woodside / 16thStreet
Connecticut Avenue
Downtown Bethesda (connecting with the Red Line)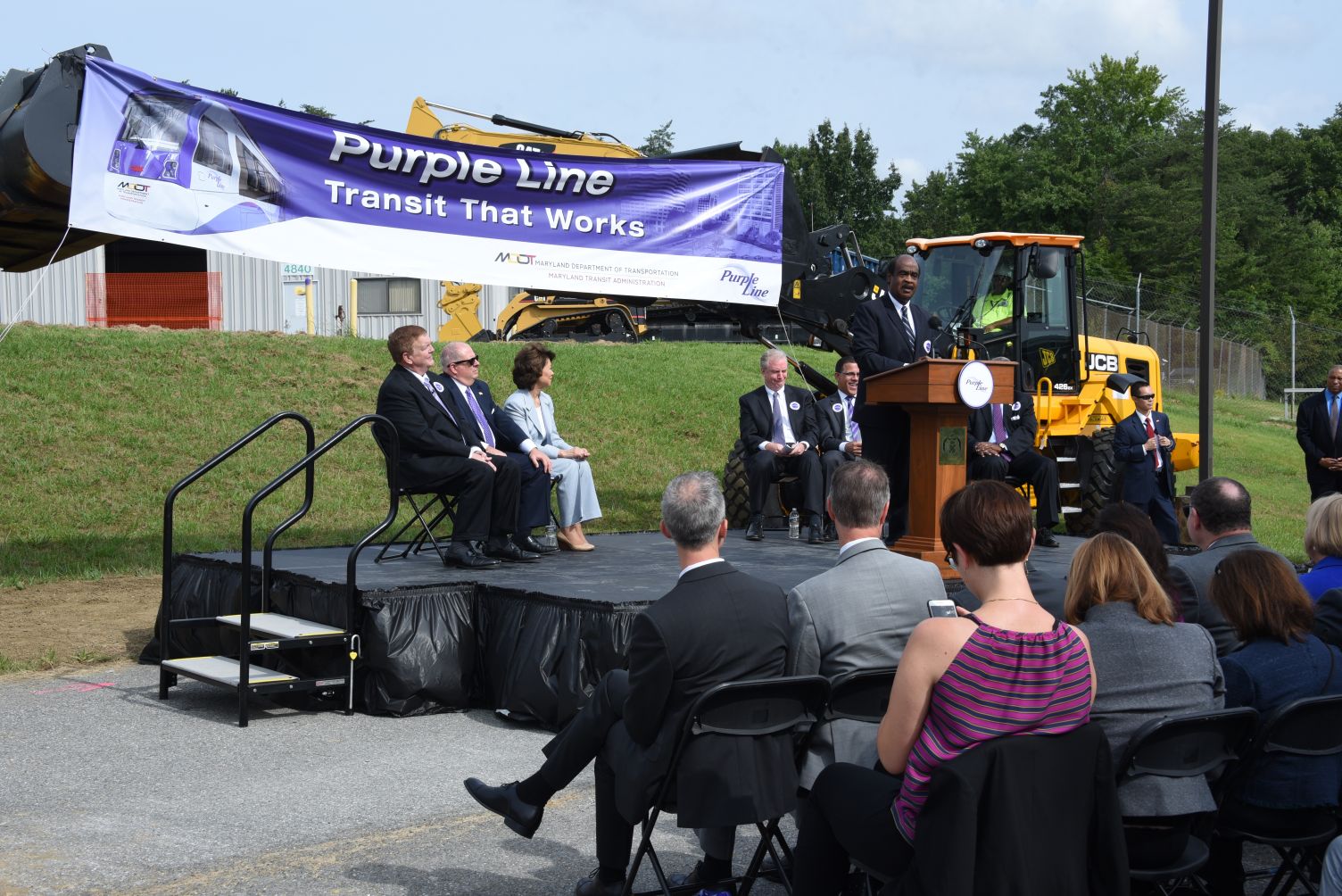 The Purple Line will be different from Metro – a bit mellower, if you will. It will be a modern streetcar system powered by overhead electrical lines. Public art and landscaping will be emphasized at the stations. The tracks will be above ground except for a tunnel east of downtown Silver Spring. One estimate suggests an average speed of about 27 mph. Ridership calculations are always iffy, but the state predicts almost 70,000 daily riders by 2030.
Obviously, the Purple Line will have a huge impact. The state estimates it will take 17,000 cars off the road every day, saving 1 million gallons of gas annually. Those sound like big numbers to me.
I'll have more posts to share as construction moves forward. We're keeping an eye on how construction and the Purple Line's completion might impact individual neighborhoods and home prices. But if you're shopping for a home and wondering how the Purple Line might impact your thinking, give us a call. We'll talk it through.