Thanks for stopping by!
Our Design Made Easy services are fully booked.
Due to popular demand, we are currently busy helping our sellers, making their homes irresistible! If you are in the market to list your home, please contact us at [email protected], and we can provide immediate assistance. If you would like to be placed on our waiting list for Design Made Easy services, let us know in the form below.

Not ready to list your home with us yet? Curious about the best possible upgrades and design decisions to make now that will put you ahead of the game when you are ready to sell? Whether you're thinking of selling, buying or just want to perk up your current space, our design packages can help you get it done easily and with style.
From helping you with new furniture, lighting and accessory choices to renovating an entire room, our design team can make it happen! Please check out the following design packages to see which one is right for you and give us a call at 301.288.3261.
Our Design Team Makes it Easy
Color/ Paint Consultation
One of the quickest ways to enhance the look of your home is a new fresh coat of paint. Choosing colors can be daunting though, especially when you are not sure what future buyers will relate too. And it is always hard to make a decision when you can't actually picture the color on the wall. We lend our tried and true experience to help you choose paint colors or even wall coverings that will work in your rooms with your furnishings. We can also connect you with our paint contractors when you are ready to start the work.
* Includes color choices for each room, color swatches, contacts for painters if needed and special pricing on all types of Sherwin Williams paints.
Design Consultation
If you're looking for an overall fresh look for one or several rooms in your home but don't know where to start, we can help! Overwhelmed by too many design choices? Want to make a change but not sure how to pull it all together? Need to enhance a new space with some great accessories and furniture? Whether you just need some design-related suggestions, better furniture ideas or shopping and installation, this is the consultation for you. Let's get you started on a path to making your home a place you can't wait to come back to every day to sit back and enjoy!
*Includes initial consultation to talk about your ideas and what you're looking for and together decide on next steps for restyling the space. Additional research, inspiration boards, shopping, and installation will be charged at an hourly rate (maximum 4 hours/week)
Kitchen Consultation
Tired of struggling with a kitchen that is out of date, not functional and just plain ready for a facelift? We can offer you the perfect solution whether you need a full-blown renovation or just some painting and new appliances. We will look at your space with our contractor and figure out the best solution for your kitchen that works with your budget. Making the most of the space (keeping in mind resale) and allowing you to enjoy the design of the new space is our number one priority. With this service, we can be involved from start to finish or we can get you started with our expert contractors and kitchen design company and then you can take the wheel from there.
*Includes the initial consultation, consultation with a contractor and kitchen designer, design drawings and specs for cabinets. Additional time to assist you with project choices, paint colors, fixtures, faucets, lighting, flooring, appliance, etc. will be charged at an hourly rate (maximum 4 hours/week).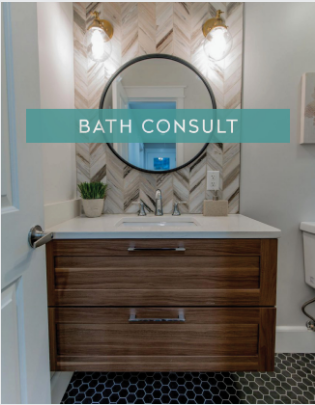 Bath Consultation
Our bathroom consultation essentially works the same way as our kitchen consultation. We will assess your space, bring in contractors and bathroom designers and provide sketches and specs.
*Includes initial consultation, contract and bath designer meeting, and brainstorming.
*Additional time to assist you with project choices, paint colors, fixtures, faucets, lighting, flooring, appliance, etc. will be charged at an hourly rate (maximum 4 hours/week)
Designer for a Day
Designer for a Day is a great package for those of you who would like us to "stage your room or rooms" in the same way that we would if we were staging your home for selling. Using what you currently own, we will create the best and most beautiful space possible and, depending on your needs and your budget, we can enhance that space with some pre-purchased accessories and accent pieces. This is also a great option if you are getting ready for a party and need help setting up a space for your event.
*Includes the initial consultation and staging day.
*Additional shopping or preparations will be charged at an hourly rate (maximum 4 hours/week).
If you would like to schedule an appointment with one of our designers please fill out the form below and we will get back to you.